As COVID-19 deaths began to peak in January, Arroyo Grande resident David Cuellar's world was rocked when three of his immediate family members died in a matter of weeks — his jack-of-all-trades father, Raul Senior, his good-humored sister, Margie, and his brother, Raul Junior, with whom he shared a culinary passion.
Now, as David grapples with his losses, he is focused on honoring the memory of his loved ones, and urging the community to see his family's story as a testament to the severity of COVID-19.
"I know we're not the only ones going through this, but I like to say we're a face to the numbers," David said. "[People] are gonna know how serious this virus is when it wipes out half their family."
To many Central Coast residents, comprehending the recent spike in COVID-19 deaths as anything more than a number can be difficult. However, for families who have been devastated by the virus, a disproportionate ratio of which are families of color, the numbers are all too real.
According to data through the end of 2020, Latinx and Hispanic individuals in Santa Barbara County, who comprise 40% of the population, accounted for 57% of all COVID-19 cases, 67% of COVID-19 hospitalizations and 50% of all deaths from the illness.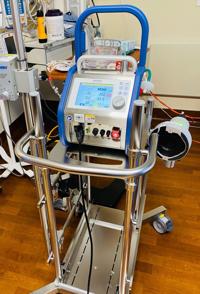 While San Luis Obispo County's Hispanic and Latinx demographic is smaller, making up 22.9% of the population, the individuals accounted for 33% of cases, according to county data. 
Like the rest of the state, January was the deadliest month for COVID-19 since the start of the pandemic on the Central Coast. Within the month, deaths grew by 77% in San Luis Obispo County and 81% in Santa Barbara County, according to data from both counties.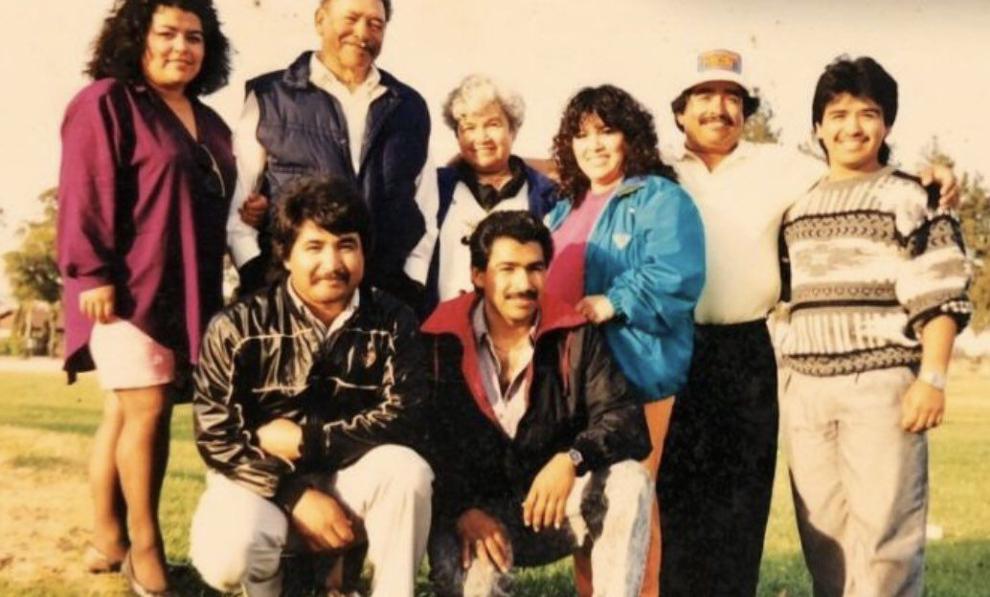 For the Cuellars, the disease began spreading after entering the family's six-person home in late December, eventually leading to the hospitalization of Raul Senior, Margie and Raul Junior at Marian Regional Medical Center.
The coming weeks would be a nightmare for the family, who were forced to make the decision to take Raul Senior off a ventilator on Jan. 10. Three days later, they had to make the same decision for Margie, while waiting to see whether Raul Junior would survive.
"With my brother, the whole time he was in the hospital, every time we would go visit him was so heart-wrenching. We knew we were going to have to make that decision for him, too," David said. 
That day eventually came on Jan. 26, leaving the Cuellars heartbroken.
"It's so quiet at the house. I try my best to come up and see my mom every day, because not only do I find it helpful, I like to think it helps her, too, to be able to see me and know that I'm here for her and I can give her that comfort when she does break down, and vice-versa," Cuellar said. 
In Santa Maria, 30 minutes to the south, 21-year-old Naya Watkin's family was navigating a similar tragedy. 
Watkins, a resident of Grover Beach, said her great-grandparents Juan and Victoria Gomez have a long history in Santa Maria, originally coming from Mexico as part of the Bracero program. Over the years, a family home was established in the city, housing seven people by January including aunts, uncles and her great-grandparents.
Once Watkins' great-grandmother tested positive for COVID-19 around New Year's Eve, bringing the virus into the crowded household, everything changed. 
"It spread like wildfire in the family from that point. My great-grandparents, three of their kids, and one of their grandchildren were all at Marian, and three of them were in the [intensive care unit]," she said. 
In the coming weeks, three family members would be discharged from the hospital. However, Watkins' great-grandparents, who were in their 80s, died in mid-January, with a service held on Jan. 29.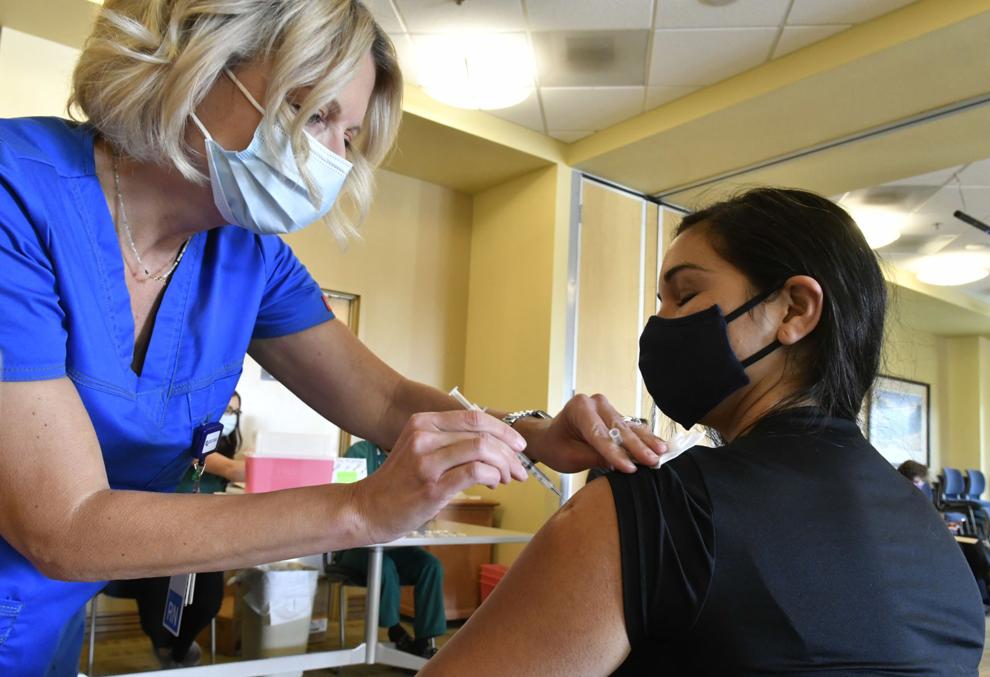 Just two days later, Watkins' aunt Andrea, who was in her 50s, also died. Throughout all the time spent in the hospital, Watkins said not being able to visit family members was one of the hardest parts.
"I can't even describe the urge I had to drive over there and just bust through the doors. I can't describe that heartbreak. It's absolutely gutting," Watkins said.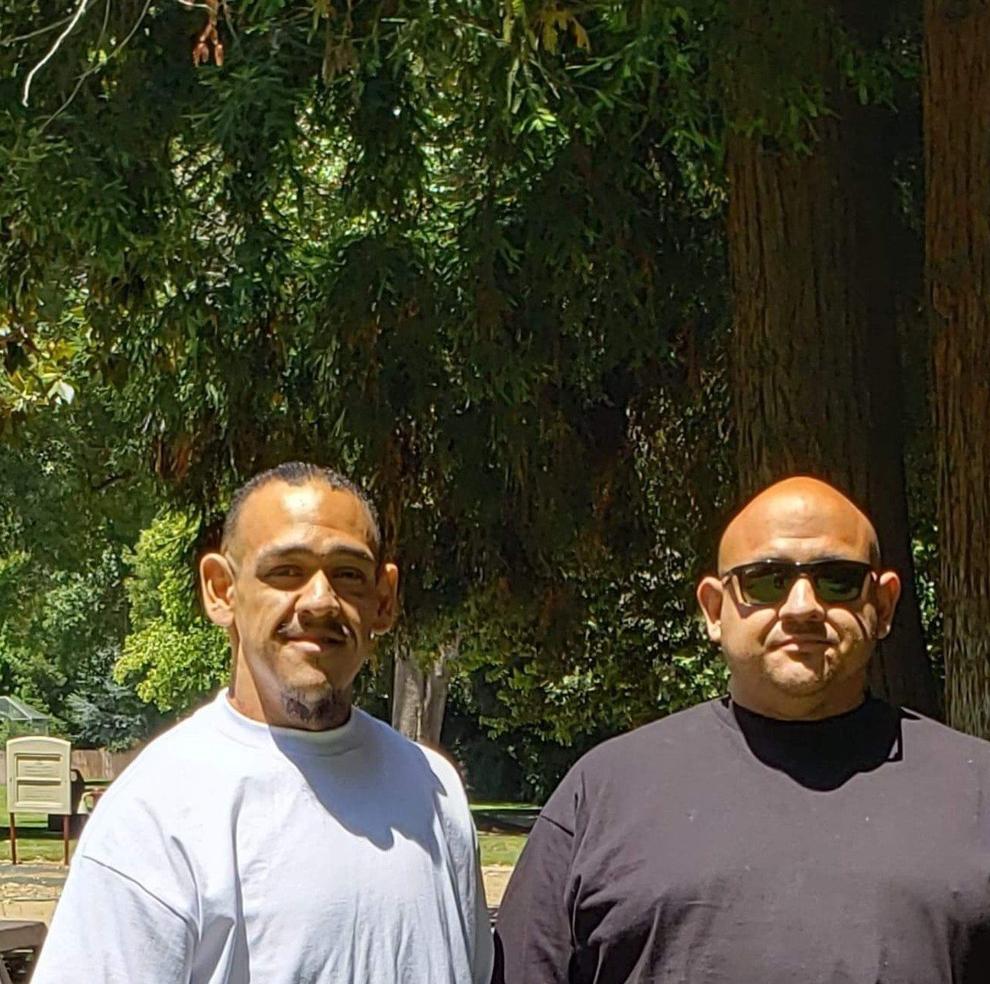 While Marian Regional Medical Center officials could not confirm the exact number of families treated at the hospital that experienced multiple COVID-19 deaths, they said the situation is not uncommon.
"For the vast majority of patients treated at Marian, transmission seems to have occurred within families. In families with multiple generations under the same roof, the risks are even greater," said Infectious Disease Specialist Dr. Trees Ritter. "Based on the patients treated to date, we can conclude that spread between family members has resulted in a greater burden of disease in the Santa Maria area."
Watkins, who is Afro-Indigenous, said she is concerned about the impacts the virus is having on working-class families of color like hers. Her aunts and uncles did not have the option to work from home, increasing the risk of the virus being brought home to the rest of the family, she said.  
"People can rationalize [COVID] like a cold, but this is a lot more than that. It's really destroying families, especially those in the working class," she said. "I feel like the fact that housing is so expensive in California, and people are having to live in houses together, is heavily contributing to spread."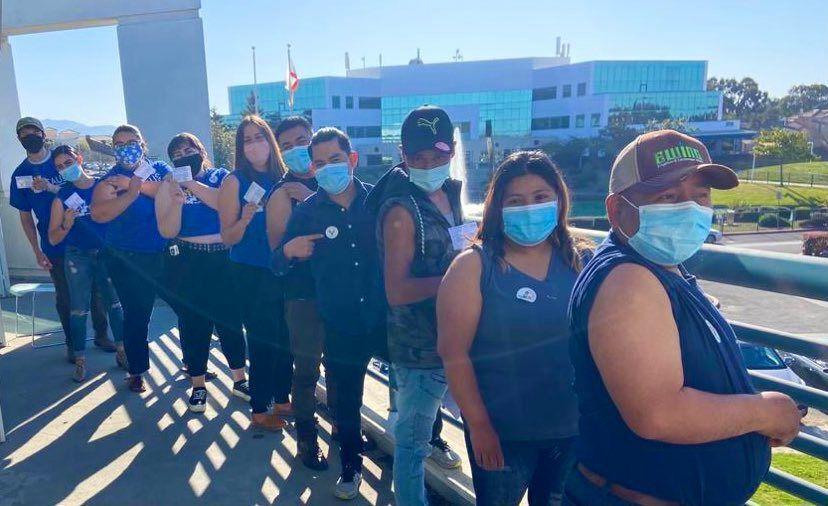 Over 400 educators and classified school staff from across Santa Barbara County arrived Thursday at the Lompoc Valley Medical Center to receiv…
When Santa Maria resident Melissa Meza was hospitalized for COVID-19 last spring, her condition deteriorated to the point where she needed lif…
Changes are coming to Santa Barbara County's COVID-19 vaccine rollout over the next week, as the new Johnson & Johnson vaccine makes its w…
Santa Barbara County began a new COVID-19 vaccination chapter this week as officials expanded access to agriculture, food, emergency and educa…
As the Santa Barbara County Public Health Department prepares to open COVID-19 vaccine appointments to educators, agriculture and food workers…
Santa Barbara County's elderly and Latinx residents continue to be impacted by COVID-19 at disproportionate rates compared to their population…
Community advocacy groups in Santa Barbara County are calling on Public Health officials to ensure equitable access to the COVID-19 vaccine, a…
Severe weather conditions throughout the country have prolonged delays of Moderna vaccine deliveries to Santa Barbara County, causing nearly 2…
A small number of residents ages 65 to 74 in Santa Barbara County had the opportunity to register for COVID-19 vaccinations Tuesday, with limi…
While Santa Barbara County moves closer to meeting state COVID-19 requirements for reopening schools, several logistical hurdles related to wi…
Residents between the ages of 65 and 74 in San Luis Obispo County are now eligible for the COVID-19 vaccine, with appointments expected to be …
The Santa Barbara County Public Health Department is prepared to support the reopening of elementary schools by urging the state to grant an e…
After the COVID-19 pandemic forced Jada Beaudet to finish her eighth grade year in distance learning, the 15-year-old and her family hoped her…
Santa Barbara County passed the 30,000-mark for COVID-19 cases on Monday, after the Public Health Department reported 380 new COVID-19 cases o…
The Santa Maria Health Care Center will offer free, walk-up COVID-19 testing for community members on Saturday, with no appointment required, …
Around half of Santa Barbara County health care workers eligible for the COVID-19 vaccine have declined receiving any doses, county public hea…
About 10% of Santa Barbara County residents have received COVID-19 vaccinations, and health officials said the reason for the relatively slow …
January was Santa Barbara County's deadliest month yet in the pandemic, with 131 individuals dying from COVID-19 in the first 31 days of the y…
The Santa Barbara County Public Health Department will halt administration of initial vaccine doses for the next four weeks at distribution si…
An estimated 65% to 75% of the COVID-19 vaccine doses allotted to Santa Barbara County have been administered, while most of the statistics us…
Availability of vaccine appointments in Santa Barbara County is shrinking as public health officials await updates from the state and federal …
Santa Barbara County commercial tenants got another two months of protection from eviction for nonpayment of rent caused by COVID-19 when the …
Outdoor dining and indoor salon operations no longer will be restricted in Santa Barbara County after state officials lifted the regional stay…
Santa Barbara County public health officials are growing more concerned about the slow rollout of COVID-19 vaccines to the county, with offici…
Santa Barbara County public health officials announced Thursday that 3,900 Moderna vaccines have been approved for use after state officials r…
A year ago, facing competition from the Krispy Kreme Doughnuts franchise that had just opened a store in Santa Maria, locally owned Golden Don…
Over 17,000 doses of Pfizer and Moderna COVID-19 vaccines, including both first and second doses, now have been administered in Santa Barbara …
The Santa Barbara County Public Health Department will pause all usage of a recent Moderna COVID-19 vaccine shipment after state health offici…
Community members ages 75 and older in Santa Barbara and San Luis Obispo counties can get their COVID-19 vaccines beginning next week, public …
Lompoc Valley Medical Center received an overwhelming surge of community members seeking vaccines last Wednesday after the hospital extended i…
As COVID-19 vaccination efforts continue in Santa Barbara County, public health officials are opening new distribution sites for those in high…
Individuals eligible to be vaccinated against COVID-19 in Santa Barbara County's next phase of inoculations could begin receiving injections i…
Santa Barbara County's COVID-19 increases grew more severe over the past four days, with few areas spared from spiking case rates and newly re…
FoodMaxx on South Broadway in Santa Maria closed Wednesday after an employee tested positive for COVID-19 but reopened as usual Thursday after…
Santa Barbara County Public Health officials gave a grim overview of the county's COVID-19 status Tuesday, describing the debilitating effects…
Leaders in government, business, education, medical care and other fields have called policy and procedural changes made in response to the CO…
As Santa Barbara County homeless shelters like Good Samaritan in Santa Maria remain at capacity because of COVID-19 limits, staff are holding …
COVID-19 case surges and limited hospital staffing in Santa Barbara County have led to a dramatic decrease in overall ICU capacity, with adult…
Public school districts in Santa Maria and Orcutt have had no choice but to further delay plans for returning to in-person learning once again…
With Thanksgiving gatherings and travel leading to unprecedented COVID-19 case surges, Santa Barbara County health officials are looking ahead…
As the economic climate continues to deteriorate amid the ever-tighter restrictions imposed by the governor in response to surges in COVID-19 …
An infectious disease specialist received his COVID-19 vaccine at Marian Regional Medical Center on Thursday as the cheers of nurses and staff…
Santa Barbara County public health officials are blaming spikes in local COVID-19 cases and hospitalizations on Thanksgiving, with the county …
After submitting a request to the state this week to be excluded from the designated Southern California region — where dropping ICU capacity …
Hospital statistics on COVID-19 patients and answers to some questions about causes of death and testing numbers were delivered Dec. 8 in a re…
Santa Barbara County Board of Supervisors got some information about how COVID-19 has affected the local economy, including unemployment and m…
As brick-and-mortar restaurants navigate the newest round of state COVID-19 restrictions, local food trucks are struggling to find places to s…
Santa Barbara County Board of Supervisors voted unanimously Dec. 8 to send a letter to the governor asking for the Tri-Counties area to be sep…
Due to plunging ICU availability rates, the state's stay-at-home order will take effect in Santa Barbara and San Luis Obispo counties, along w…
Santa Barbara County is on the brink of additional closures — prohibiting outdoor dining and shutting down salons — under a new regional stay-…
Santa Barbara County health care workers and first responders could begin receiving COVID-19 vaccinations as early as mid-December, but it mig…
At the 'A' Street Café in Santa Maria — a breakfast and lunch eatery that offers employment and training opportunities to individuals with dis…
Many of Santa Barbara County's small-business owners say they are drowning in a sea of purple as the governor's tightened COVID-19 restriction…
Rising COVID-19 case rates are keeping Santa Barbara County trapped in the state's restrictive purple tier for a second week, as state officia…
Santa Barbara County is facing funding shortfalls over the next five years, even in the best of three possible scenarios, as revenues decline …
On the morning of March 13, Phyllis Sabo visited her husband, James, at Marian Extended Care Center during one of their regularly scheduled vi…
Santa Barbara County public health officials are bracing for increased hospitalizations and deaths related to COVID-19 over the coming weeks, …
Due to Santa Barbara County's status in the state's purple tier, all nonessential gatherings and activities will be restricted from 10 p.m. to…
Santa Maria will receive more than $960,000 in a second round of COVID-19 federal CARES Act funding that will allow for increased rental assis…
With COVID-19 rates rising again in Santa Barbara County, public health officials are urging residents to continue seeking COVID-19 testing, e…
Santa Barbara County will send a letter to Gov. Gavin Newsom asking him to modify the new purple tier requirements in his Blueprint for a Safe…
Clerical and management workers make up the sector most responsible for driving Santa Barbara County's surge in COVID-19 cases during the firs…
Students within the Santa Maria Joint-Union High School District will be required to Zoom into class more frequently this week under a new sch…
After temporarily closing due to a confirmed student COVID-19 case in early November, the number of COVID-positive students at St. Joseph High…
The rate of new COVID-19 cases being reported each day has remained relatively flat in Santa Barbara County overall, representing a much bette…
A new online dashboard giving the public more data on COVID-19 in Santa Barbara County was unveiled Tuesday when the Board of Supervisors took…
Santa Barbara County residents will not see further reopenings for at least another two weeks, after increased COVID-19 case rates further dis…
The Santa Barbara County Public Health Department confirmed an additional 24 COVID-19 cases on Tuesday, bringing the county's total number of …
While COVID-19 cases remain stable in Santa Barbara County, public health officials are concerned about another spike in cases due to gatherin…
A dramatic increase in the number of families in need has led the Foodbank of Santa Barbara County to call for 1,000 more donated turkeys than…
Santa Barbara County's unemployment rate has fallen to about half of its April spike brought on by the COVID-19 pandemic, but it's still runni…
Santa Maria civic leaders discussed economic challenges of the COVID-19 pandemic and highlighted examples of the city's resiliency and accompl…
A new initiative was launched this week by a coalition of educators and health-care providers to break the back of the COVID-19 pandemic in Sa…
An Orcutt couple has come up with an easier way to build a treat delivery system than one made internet-famous by a guy in Chicago, and they'v…
Following a severe coronavirus outbreak, skilled nursing facility Santa Maria Post Acute was declared COVID-free on Monday by the Santa Barbar…
An ordinance that would allow certain Santa Barbara County personnel to issue citations leading to fines for violating county health officer o…
Around 30 parents and children from the Orcutt Union School District rallied on Wednesday afternoon to protest the district's recent decision …
As agricultural workers continue to have the highest COVID-19 case numbers in Santa Barbara County, workers who have tested positive and need …
Santa Barbara County remains stuck in the red tier of the state's COVID-19 reopening framework, with equity metrics and positivity rates meeti…
Hancock College will continue offering the majority of classes in a distance learning format in the upcoming spring semester, college official…
For Righetti senior Kidasi Nepa, the news that the Santa Maria Joint-Union High School District would not be returning to in-person learning u…
Officials with the Santa Barbara County Public Health Department confirmed on Friday that "several" residents have died in a COVID-19 outbreak…
Following seven months of closure with services mostly limited to online, community members once again will be able to browse books on the she…
Latinos, agricultural workers, 20-year-olds and the elderly have been affected by COVID-19 at levels disproportionate to their percentage of S…
A Tuesday health order from the Santa Barbara County Public Health Department permits the reopening of K-12 schools in the county and continue…
In order for Santa Barbara County to move into the state's next reopening tier, COVID-19 rates will need to brought down in the 21 most dispro…
The city of Santa Maria hit a new milestone Wednesday by reaching 4,000 total COVID-19 cases since the start of the pandemic. While the city h…
The first phase of a survey of California farmworkers about the impacts of COVID-19 found a community afraid to seek medical help, suffering f…
Santa Barbara County is still holding in the red tier of the state's blueprint for reopening the economy, even though both the COVID-19 case a…
In an ongoing COVID-19 outbreak at skilled nursing facility Santa Maria Post Acute, 38 residents and 24 staff members have tested positive for…
The Santa Barbara County Public Health Department this week reached the milestone of 150,000 COVID-19 tests conducted since the start of the p…
St. Louis de Montfort Catholic School came back to life Wednesday morning after a seven-month dormancy due to the coronavirus outbreak, as car…
Santa Barbara County Board of Supervisors extended its protection for commercial tenants unable to pay rent because of COVID-19 impacts until …
Santa Barbara County officially went red Tuesday after the state certified its COVID-19 new case rate had remained at that level for two weeks…
Businesses in Santa Barbara County have stepped up to help the Santa Maria Fairpark from folding, and now the organizers of three fundraisers …
Santa Maria movie lovers may once again be able to see new releases on the big screen as soon as next week, with Regal Edwards theaters in San…
For COVID-19 survivor Melissa Meza, there are certain aspects of her battle against the virus, which included 10 weeks of hospitalization, lif…