Homeschooling provides more time with family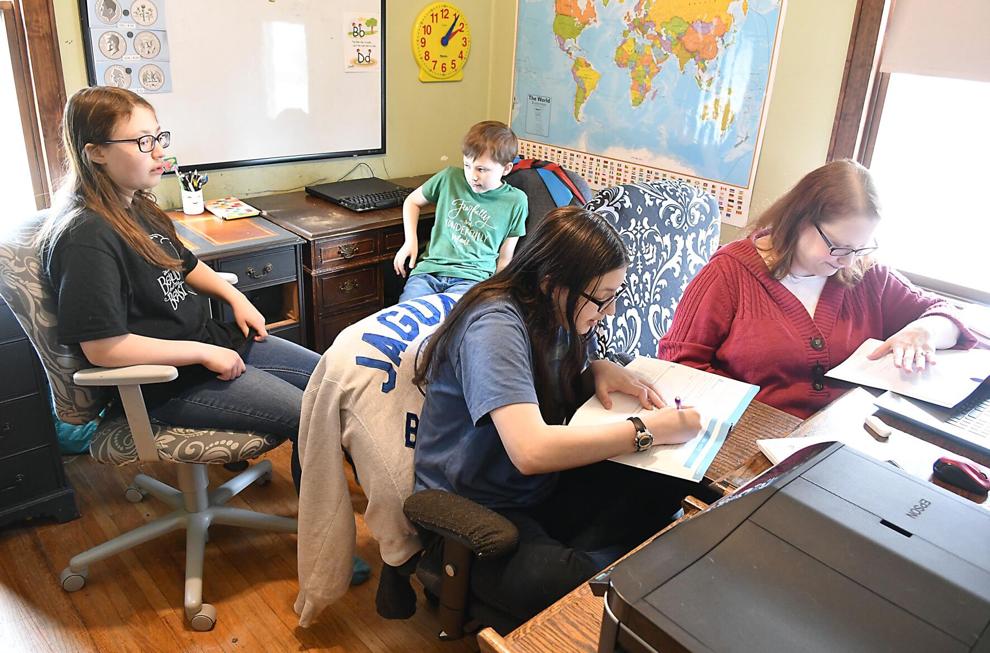 Being a mother automatically means wearing a wide variety of hats throughout each day. Those hats can include nurse, nutritionist, counselor, friend and teacher. While the teacher portion of being a mom has increased quite dramatically for most people over the past year, for moms who homeschool their children, the change hasn't been noticeable.
"Our school day was not affected by the pandemic at all. Our extracurricular activities were canceled, but as far as our learning and school work, we had no changes," said Megan Schwichtenberg, mom and homeschool teacher of three children, Aine, 15, Ava, 11, and Asher, 9.
Schwichtenberg has been homeschooling since 2012, which means she has been mom and teacher for nine years. For her, the decision to homeschool goes back to her own homeschooling experience.
"I was homeschooled beginning in the second grade. I had a great experience being homeschool, and I wanted my kids to have the same experience."
Schwichtenberg noted that homeschooling hasn't changed much since she was growing up, although more resources are available today as well as more groups that can get together and more curriculum options.
"And more people are aware of what homeschool is so you don't meet as many people who haven't heard of homeschooling."
It was also important to Schwichtenberg and her husband, Chad, that their children be educated from a Christian worldview. A third consideration that helped them decide to homeschool their children had to do with time — and who would be spending the majority of it with their offspring.
"When I thought about sending my kids to a public school, I realized that a teacher would have more time with my kids than I would, and I didn't want that," she said.
Homeschooling one child would be a challenge for most moms. Homeschooling three sounds like it would not only take up every waking moment of any given day but also get increasingly difficult with each passing grade. That hasn't been what Schwichtenberg and her children have experienced at all.
"When the kids are younger, their work is easier and it doesn't take as long," Schwichtenberg said. "I was able to work with each one without taking a long time. Once they got older, they were able to work independently on some subjects and then I spend time with each one on subjects they need more help on."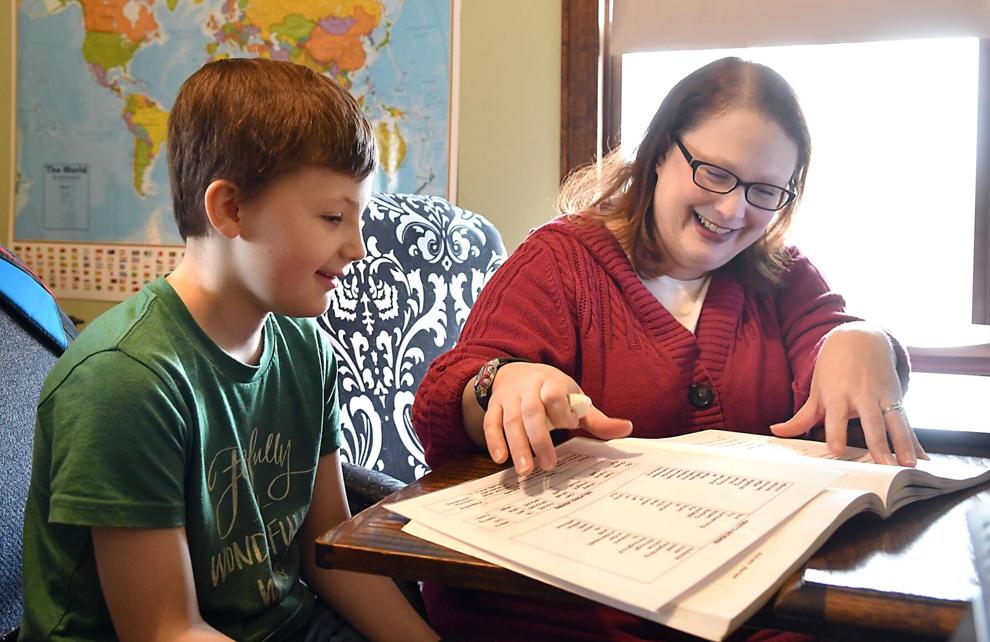 Schwichtenberg also pointed out that as a homeschooling mom, the ratio of student to teacher is 3 to 1. In a public or private school setting, the ratio is more along the line of 10 to 20 students to 1 teacher.
"I am able to provide my kids with more one-on-one attention than any teacher in traditional schools would be able to provide."
Figuring out what to teach is as important as figuring out how to teach. When it comes to curriculum, Schwichtenberg relies on research and talking to other families that are homeschooling. She has learned there are many sources for buying curriculum and typically gets what they need from multiple sources depending on the subject. Schwichtenberg said with so many options available, it can be overwhelming to figure out what would work best for her students.
"Being part of a homeschool group is very helpful for learning about different curriculums. Parents share what has worked for them and can give you advice."
The Schwichtenbergs are part of a co-op called Mankato Homeschool Connections. The group meets once a week for classes such as art, science, music and history. Parental involvement is required as it is not a drop-off type of group. The classes don't replace the classes done at home but are supplemental.
"In the state of Minnesota, it is not legal to teach a school-aged child that is not your child without a teaching license," Schwichtenberg said. "You can be part of a co-op where parents teach other kids, but it is in addition to what you are doing at home and does not replace any of that education."
The co-op also participates in field trips to such places as FarmAmerica, Sea Life and Historyfest. Unfortunately, the pandemic put a hold on field trips for the past year, but the Schwichtenbergs hope they'll be back soon.
In addition to the co-op, there is a Facebook page for Mankato Area Homeschools where parents organize field trips and other activities and invite any family that would like to attend. When it comes to physical activity, all three children have taken taekwondo and they also get plenty of exercise taking care of the family's German shepherd, Willow.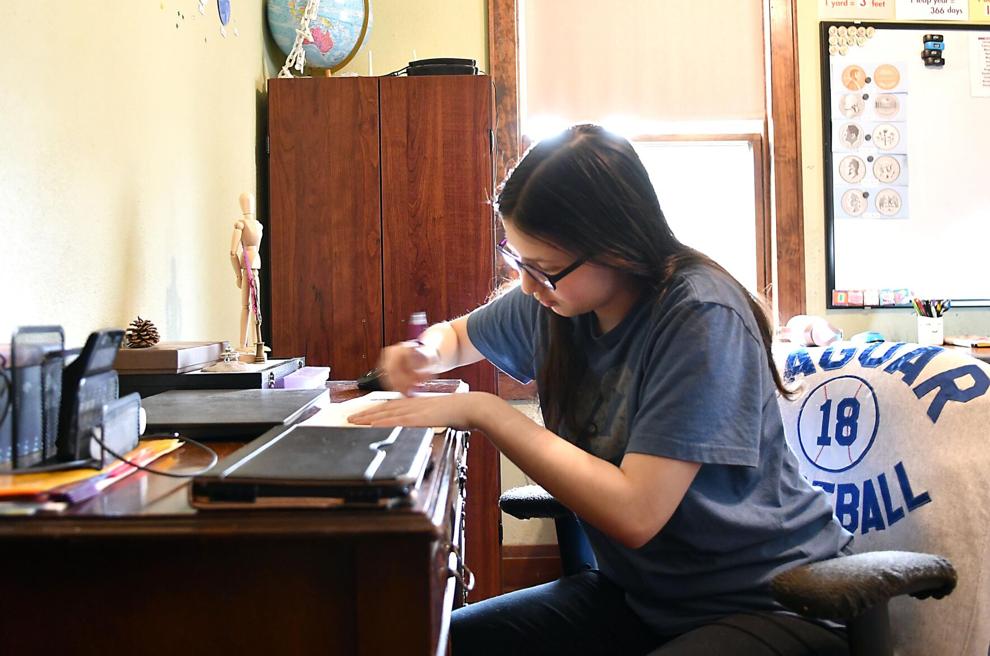 Grading for homeschoolers is completed by the teacher/parent and is done according to either the curriculum's grading scale or a scale similar to the one used in public schools. Parents can choose either the traditional letter grades or pass/fail.
For Schwichtenberg, being both mom and teacher hasn't resulted in feeling as if she was playing multiple roles.
"As a parent, we are our children's first and primary teacher. For me it doesn't end at age 5 when they start kindergarten."
Schwichtenberg thinks homeschooling has been beneficial for both her children and herself.
"On a personal level, my relationship with my kids has been the greatest advantage of homeschooling. On an academic level, the ability to make adjustments for any of my children and to be able to tailor their learning experience to their learning abilities have been the biggest advantages."
Tailoring a lesson might mean slowing the teaching down until a concept is mastered or, conversely, helping them work ahead in subjects they excel at. Homeschooling allows Schwichtenberg and her children to set their own pace, be it fast or slow.
After being a homeschooling mom for nine years, Schwichtenberg can't think of anything she'd change about the process.
"Personally, I don't have anything I would change. Any difficulties we have had have only helped us grow stronger and closer together."
So how does a woman who homeschools her children ever get any time to herself?
"Grocery shopping!" Schwichtenberg said with a laugh. "Honestly, doing schoolwork doesn't take as long at home as it does in traditional school. It only takes us a few hours each day to complete all our schoolwork."
That leaves more time for family members to pursue their own interests and dreams.
Being with your children 24/7 might not be every mom's dream, but it has worked well for the Schwichtenberg family.
When asked the two questions all adults ask school-age children, "What's your favorite subject in school?" followed by "What do you want to be when you grow up?" all three Schwichtenbergs had ready answers.
Aine's favorite subject is sign language and she wants to be an author when she grows up. Ava's favorite subject is history and she sees herself as an artist in her future. Asher likes math and hasn't decided yet on what he wants to be once he's grown up.
The children agreed that having their mom as a teacher is a good thing and that when they're done with school, the memories of the laughter all of them shared will last them a lifetime.