The 11th annual FCA All-Star Classic is all set to kick off Saturday night.
Nipomo High will host this year's annual All-Star football game and those who will be in attendance are hoping the 2022 version is a lot more competitive than last year's.
The game pits the top seniors from Northern Santa Barbara County against those from all of San Luis Obispo County. In last year's game, played at Lompoc's Huyck Stadium, the Santa Barbara County team rolled to a 46-0 win.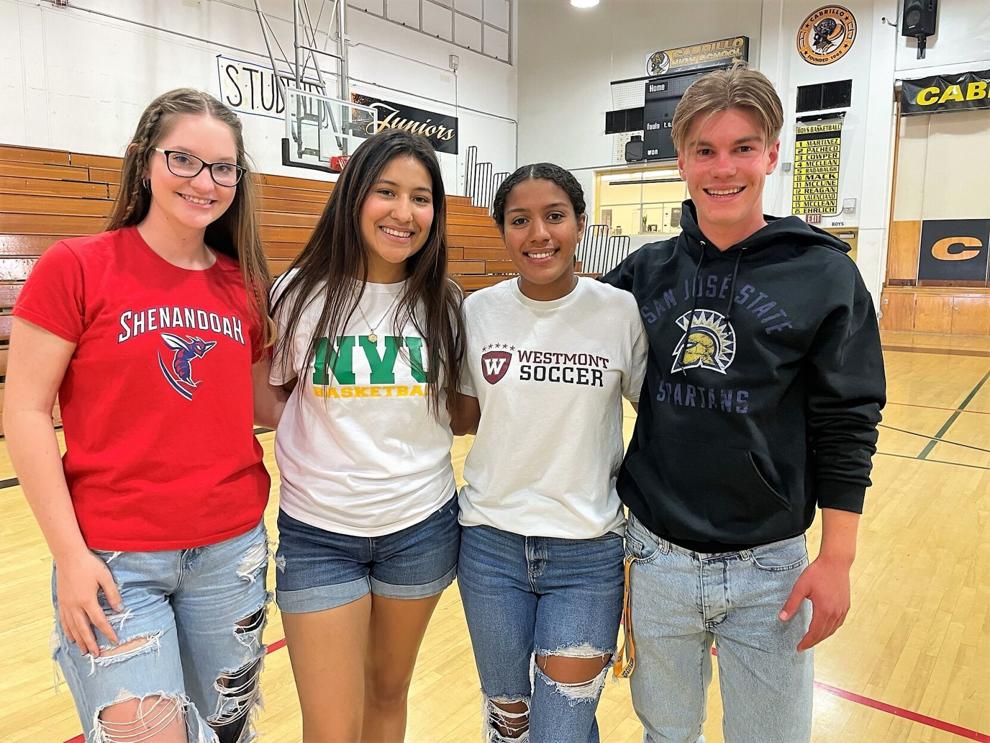 Santa Barbara County has beaten SLO county eight of the 10 times the teams have played. There was no game in 2020 due to the coronavirus pandemic, but the game returned last year and was held in late June.
The Santa Barbara County team began practicing at St. Joseph High School last Saturday. At a practice on Tuesday, the SB County boys were running their offense, coached by Lompoc's Andrew Jones and Righetti's Tony Payne and Buddy Garcia. Santa Ynez head coach Josh McClurg was doing a little bit of everything, Santa Maria's Alberto Mendoza was helping coach the Santa Barbara defense.
Of course Dustin Davis, Pioneer Valley's head coach, was also a prominent voice on the team's defense.
St. Joseph's Mark Crisp is set to be the team's starting quarterback Saturday night. Crisp earned the starting position at St. Joseph as a sophomore, but suffered through injuries (including a broken collarbone and a torn ACL) and a pandemic.
Crisp has some skill weapons to work with, including Travis Royal, who was St. Joseph's top wideout last season. Royal will surely be a deep threat Saturday night. St. Joseph's Chris Miller, who missed the first half of his senior season after transferring from Righetti and then missed the rest of his season with a broken leg, was taking reps at receiver.
Santa Ynez twins Cash and Canyon McClurg, along with teammate Tyler Gregg, will all see time at receiver and defensive back.
St. Joseph's Anthony Moreno was taking some reps at running back. Righetti's Ryan Boivin is listed on the SB County team's roster, though he was playing in the CIF State playoffs with Righetti's baseball team on Tuesday. He'll be able to carry the ball plenty.
Pioneer Valley's Adan Rubalcava can also make plays at receiver and safety. Pioneer Valley's Rudy Mendez will also see time at running back/fullback.
Santa Ynez' Owen Hunt is a big-play threat all over the field. Hunt can play some tight end and will also likely line up some at defensive end.
Righetti's Elijah Swanson had a solid season as a contributor to the offense as a wingback/slotback and was getting some reps catching the ball out of the backfield at this week's practices. Santa Maria's Nick Martinez, at 6-foot-2, can be a big-play threat in the passing game, too. Saint David Placencia is a good two-way player at WR and DB.
The offensive line appears to be solid. Righetti's Malachi Broome will play some guard, Santa Maria's Larry Vea and Lompoc's Xavier Carpio will line up at tackle, with Emilio Figueroa playing center and St. Joseph's Aaron Guggia playing another guard spot. Pioneer Valley's Eric Lopez can also play tackle and Santa Maria's Salomon Gomez can play multiple OL positions.
Santa Ynez standout Leo Valencia should handle the kicking duties, but can also play tight end for the SB County offense.
Santa Ynez fullback Nwar Samaan could also see some carries at running back.
Valley Christian's Josiah Heller, a fullback/defensive end, and Orcutt Academy's Kyle Miller, a running back/DB, will represent the Santa Maria Valley's two 8-man teams in the game.
Two of the area's top play-makers won't participate in the game as Lompoc's Sheldon Canley Jr., the reigning All-Area MVP, and teammate Deville Dickerson are sitting this one out. Canley is headed to play running back at San Diego State and Dickerson will play DB at Idaho State.
Santa Ynez brings a lot to the SB County defense with Mikey Gills, the All-Area Defensive Player of the Year, and teammate Tanner Padfield at the two interior linebacker positions.
As an All-Star game, the defenses will be pared down. They are not allowed to blitz and will have to stick in a basic formation for much of the game.
Santa Ynez has 10 players on the roster. Brandon Welby will play some nose guard for SB County. The McClurgs and Gregg will take some snaps on defense.
Righetti brings a lot of talent to the defense. Boivin can play some linebacker, but Zachary Monighetti brings speed and power to the outside linebacker slots. Case Bishop and Hayden Baichtal are stellar at pressuring the quarterback.
St. Joseph's Moreno can play linebacker and running back for SB County. Erick Santillan is a versatile linebacker that will see some major playing time Saturday. Andrew Farao and Gage Mussell are stout on the defensive line.
Santa Maria's Jacob Nava is a stout linebacker and can also carry the ball. Saints Alejandro Castillo (DB), Joseph Galindo (DB), Jose Carreon Moran (DL) and Zach Borges (DB) are set to play. Santa Maria has nine total players in the game.
Cabrillo's Tanner Costa and Aiden Heath will play in the defensive secondary.
Former Lompoc assistant coach Jerry Thompson is an honorary coach for the South team. Former St. Joseph coach, the late Mike Denne, is also an honorary coach.
Santa Barbara County dominated last year's game for 48 minutes, rolling to the 46-0 win in the most lopsided result in the contest's 10-year history. Santa Ynez quarterback Bennett Redell threw four second-half touchdowns to earn game MVP honors.
Photos: Santa Barbara County readies for FCA All-Star Classic