The Santa Maria Joint Union High School District has agreed to hold future discussions regarding the use of one of Christopher Columbus' ships in its logo, and the issue also surfaced during the public comment portion of a Santa Maria City Council meeting. 
The discussion was initiated by Santa Maria resident and Hancock College professor Scott Fina, who said the use of the logo is demeaning, considering Columbus' inhumane treatment of Indigenous peoples in the Americas.
While the city name "Santa Maria" is historically known to have come from early settler Juan Pacifico Ontiveros, who arrived in the region on the Feast Day of Mary in 1856, both the high school district and City Council adopted the image of Columbus' ship by the same name as their logo in the 1960s and 70s, respectively.
"This was decades ago, before accurate accounts of Columbus's activities in the Americas became common knowledge. However, and with all due respect, I question the appropriateness of the continued use of Columbus's ship to represent the city of Santa Maria," Fina said in a letter to the City Council, penning similar concerns to the district board.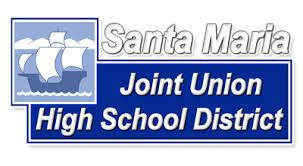 Imagery of the ship, which sailed to the Bahamas in 1492, has become widespread throughout the city, with several murals of the ship described as representing the city's "positive, bold and enterprising spirit unafraid of the challenge and sailing into the future."
City spokesman Mark van de Kamp said Fina's comments will be introduced at Thursday's meeting of the City Council, with no further discussion of the topic by the council planned at this time. 
Fina's letter to the district also referenced the large number of Indigenous students among the high schools' population, and the disrespect communicated by the logo.
"I argue that the [district] logo is an unintended but undeniable affront to a number of students in the district and their families, who are of Mixtec and Zapotec ethnicity," Fina said.
Board members in the Santa Maria Joint Union High School District introduced the topic at their Wednesday meeting, and agreed to continue discussions of the appropriateness of the logo to a future session. 
"As well, I would add the opportunity for each of the sites to look at their own mascots and see if they still find them relevant," board member Carol Karamitsos said. 
In recognition of the troubling history surrounding Columbus, monuments and celebrations recognizing the Italian explorer have been phased out in recent years throughout California and the United States. A statue of Columbus featured in the state Capitol Rotunda in Sacramento was removed in July.
This story has been updated to correct the position of the Santa Maria City Council.
After the COVID-19 shutdown one year ago, Santa Maria's Recreation and Parks Department saw revenue losses in the hundreds of thousands of dol…
Santa Maria city officials are seeking public input on a new fee structure for services that would offset the city's dependency on tax subsidi…
Salary savings from recent retirements in the Santa Maria Fire Department, along with overperforming sales tax revenue, could help fund five f…
Approximately 600 community members joined a virtual question-and-answer session with Santa Maria Police Chief Marc Schneider on Thursday, wit…
Attempts by neighboring homeowners to halt an affordable housing project on West Battles Road were rejected by the Santa Maria City Council in…
The Santa Maria City Council will hold a public appeal hearing on Tuesday about a project permit for Centennial Gardens, a low-income housing …
The city of Santa Maria will receive reimbursements for work on a Highway 101/135 interchange project through a recently approved agreement wi…
The Santa Maria City Council has taken the first step in establishing a new ordinance to regulate the activity of sidewalk vendors in the city…
The Santa Maria City Council will hold a public appeal hearing regarding a project permit for Centennial Gardens, a low-income housing complex…
An independent report of the Santa Maria Police's use-of-force review and other internal processes released earlier this month gave a largely …
Todd Tuggle has been appointed to serve as Santa Maria's interim fire chief, filling the role Leonard Champion will leave upon his retirement …
After winning the District 1 seat on the Santa Maria City Council in November, Carlos Escobedo was sworn in Tuesday as the district's first-ev…
The 24th year of Santa Maria's Lights, Sights & Holiday Nights decorating contest came to an end Friday with the announcement of the conte…
Gathering outside Santa Maria City Hall following the City Council meeting on Tuesday evening, city officials hosted a virtual Christmas tree …
The Santa Maria City Council decided in a split vote Tuesday night to maintain a zero limit on campaign contributions in local elections, with…
Santa Maria will receive more than $960,000 in a second round of COVID-19 federal CARES Act funding that will allow for increased rental assis…
Carlos Escobedo will be the first District 1 representative on the Santa Maria City Council after gaining the lead in a four-person race, with…
Financial reports for the first quarter of the 2020-21 fiscal year in Santa Maria indicate mostly conservative spending across city department…
Santa Maria civic leaders discussed economic challenges of the COVID-19 pandemic and highlighted examples of the city's resiliency and accompl…
Preisker Park improvements, city sidewalk renovations, and funds for housing and shelter services will be prioritized for Community Developmen…
Fifty Santa Maria residents connected with seven candidates running for mayor and City Council seats in this year's general election during a …
After nearly 50 years of public service in Santa Maria, including 12 years as a councilman, Mike Cordero is ready to get back on the dais for …
The Santa Maria City Council will not implement grand jury recommendations related to tracking and mitigating juvenile gang activity, citing b…
While financial reports for Santa Maria confirm significant economic impacts from the COVID-19 pandemic in the spring, small upward trends in …
Through gradual zoning changes and permit adjustments, members of the Santa Maria City Council and Planning Commission are taking steps toward…
As the Santa Barbara County Public Health Department takes the reins in investigating and responding to a COVID-19 outbreak among agricultural…
After Santa Maria code enforcement officials were directed by county health officials to increase enforcement against health code violations i…
Santa Maria officials agreed to take stronger action Tuesday to encourage compliance with health orders and collaborate with the Santa Barbara…
Following community outcry against plans to keep the Paul Nelson Aquatic Center closed through 2021, the pool now is set to partially reopen t…
The Santa Maria City Council on Tuesday approved the 2020-22 budget, with adjustments to provide further funding to the library, Paul Nelson A…