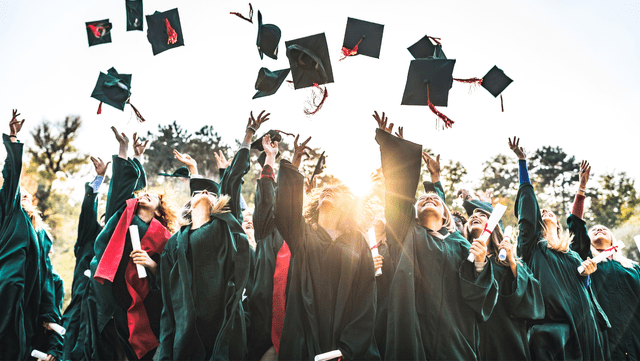 In the preliminary days of the pandemic, student debt was one of the first concessions made to keep our economy from crumbling beneath us. As soon as COVID sanctions led to closures and lockdowns, our government took leniency on the large sums of debt owed by our American collegiate classes.
A pause in payments and an alleviation of interest were supposed to bring temporary relief to those who had their jobs killed by COVID.
Payment schedules were supposed to resume after a few quarters of clemency, but as the months turned to years and deadlines turned to jokes, many have wondered, "Will we ever actually have to pay the mounting debts levied by the necessity of the neo-academic experience?"
Under President Joe Biden, there seems to be a glimmer of hope for those hooked into signing away several thousand dollars to obtain their desired degrees. For the second time since Biden assumed office, the administration announced a continued effort to cancel student debt.
This time, 40,000 debtors may see their student loans forgiven under the Public Service Loan Forgiveness program and 3.6 million more may move closer towards forgiveness.
"Student loans were never meant to be a life sentence, but it's certainly felt that way for borrowers locked out of debt relief they're eligible for," U.S. Secretary of Education Miguel Cardona said in a press release.
"We wanted to act as quickly as possible to address these problems, but we expect these figures to only grow as we continue to analyze and implement these solutions," Education Undersecretary James Kvaal said on a call with reporters.
The government's efforts to restructure the system has put a dent in the $1.7 trillion of unpaid student loan debt held by 41 million Americans. Since taking office, the Biden Administration has forgiven over $17 billion in debt for 725,000 borrowers.
As the repayment deadline was pushed from May to August last month, many borrowers are left wondering if permanent forbearance might be in the forecast.
More Non-REIT News to Know About
A New Low for NetFlix
Share prices for Netflix Inc. fell 20% to $277.03 in after-hours trading last night as news broke of the streaming superpower's slowed revenue and loss of subscribers.
Perhaps the minds behind Peacock's Yellowstone or Showtime's Yellowjackets have finally gained an edge on the once prevailing purveyors of streaming entertainment. Maybe Netflix should consider reseizing rights to The Office or offer reduced subscriptions costs. Who knows?
Whatever the case, this is one dip I'm not going to advise you to dump any coin into—although, I'm not sure I'd short the streaming giant either. For this one, let's just grab the popcorn and watch the show unfold.
The World According to REITs
Alpine Income Property Trust (PINE) Shifts to Retail
Alpine Income Property Trust announced on Wednesday that it has departed from its office property holdings division with the offloading of its last single-tenant office property in Hillsboro, Oregon. The newly organized real estate company made $16.1 million from the sales of its office property division. Selling the Hillsboro location was the final step in positioning its net lease portfolio to 100% retail. I, for one, look forward to learning more about the company's next step in the retail market. PINE is scheduled to release its Q1 results tomorrow with a live call set for April 22.
Realty Income (O) Reaps Dividends
Realty Income, an investor in free-standing, single-tenant commercial properties, announced a $0.247 monthly dividend, representing an annualized amount of $2.964 per share, to be paid on May 13, 2022 to shareholders of record as of May 2, 2022. The announced dividend represents a yield of approximately 4.6%.
American Campus Communities (ACC) Loses Board Nominee
To tie it all back to the students, activist investor Land & Buildings withdrew its nominee for the board of American Campus Communities Inc. Headquartered in Bee Cave, Texas, American Campus Communities Inc. is the largest developer, owner and manager of student housing communities in the United States. Land & Buildings said it plans to be a long‐term holder of this REIT and will continue to engage with the board as necessary, according to an 8‐K filing.
REITs Can Help You Take on 2022's Troubles Like a Pro
If investors should have learned any lesson over the past 2+ years, it's this…
Always expect the unexpected.
2020, of course, was intense. And while 2021 eased up in many ways, it still held far too many economic frustrations that kept investors on their toes.As such, I think I can speak for all of us when I say we were hoping 2022 would be much smoother. But so far, we've had to deal with:
Inflation: This was already bad last year, but it's gotten so much worse in the last few months. We're now dealing with early 1980's-style economic issues. Suffice it to say, 2021's shortages, supply chain issues, and employee shortages haven't gone quietly into the night.

Gas: Pump prices were bound to rise after the 2020 shutdowns. But then you add in OPEC and other oil-producing nations being slow to re-open operations while everything else around the world was stepping on the gas… and prices are going to increase even more. Which they have.

Russia: President Vladimir Putin's Ukraine invasion sparked serious concerns about WWIII. But even without that possibility in play, these two countries produce intense amounts of fertilizer, food, fuel, and technological components for the world. All of which is in jeopardy now.
Those levels of uncertainty are no doubt part of why investors here on Seeking Alpha have been turning to my Marketplace service iREIT on Alpha at an increased rate. They know REITs have a track record of offering stable dividend income…
Income that can be reinvested to buy more shares, thereby warranting greater payout power with each passing quarter. Or, for my retiree readers out there, it can provide additional income right away for everyday needs.
Either way, this is a great sector to be in, especially when you have an expert guide to point out powerhouses and pitfalls alike. I want to be that guide for you, just like I am for these members who've gotten so much out of iREIT already:






That's just six of the 328 reviews iREIT received by March 18. And more and more members are adding to that list of recommendations every single week.
Will you be my next success story?
There's only one way to find out! And it begins by activating your two-week trial today to see what iREIT can do for you!